A flat, multi-use classroom with built-in projector and a view of the iconic Red Gym. Furniture setup configurations are flexible.
Dimensions: 30'x47'
Area: 1410 sq. ft.
Ceiling height: 10'2"
Capacity range: 0 to 120
Room type(s): Classroom
Room features(s): Whiteboard, Windows, Wireless/wired Internet
---
Pyle Center Map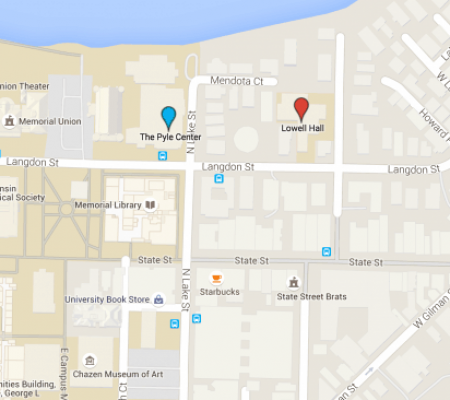 Rates
Typically, meeting rooms can be scheduled at no charge for eligible groups who order the hospitality or complete meeting package. However, special spaces, including our lounges, courtyard and rooftop terrace are charged at half day and full day rates. For external groups, a room charge will apply to meeting rooms.
---
Reserve a Meeting Room
Please note that while we do our best to honor requests we cannot guarantee a specific room.