Room 305, our Inspiration Room, is a multi-purpose area suitable for groups up to 15. It's outfitted with moveable, comfortable seating, and features ample wall space so users may use every wall for ideas and notes. The room was designed to facilitate brainstorming, gathering for strategic planning, interviewing or just talking.
Dimensions: 30'x30'
Area: 900 sq. ft.
Capacity range: 0 to 0
Room type(s): Lounge, Meeting Space
---
Pyle Center Map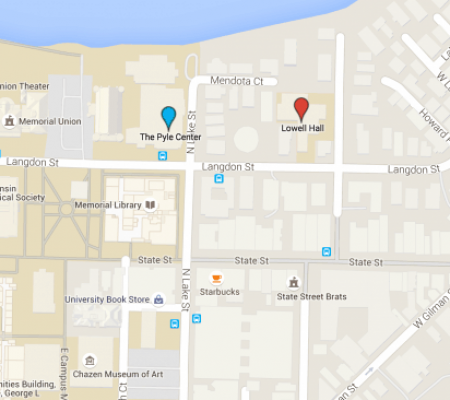 Rates
Typically, meeting rooms can be scheduled at no charge for eligible groups. However, special spaces, including our distance education rooms, lounges, courtyard, and rooftop terrace are charged at half day and full day rates. For external groups, a room charge will apply to meeting rooms.
---
Reserve a Meeting Room
Please note that while we do our best to honor requests we cannot guarantee a specific room.